Posted by
darko

| Posted in News Updates | Posted on 01-08-2012
 After 9 days in country we finally have INTERNET!!!!!!  It's amazing how vital technology becomes when you are thousands of miles away and several time zones apart from those that you love.  We have wanted to share so many things with you but lacked the ability to do so until NOW.  Fasten your seat belts and join us on the ride of our lives as we re-trace our first week in Ghana!
July 22– We drove to Atlanta to catch our 8 pm flight to London and were accompanied by family and friends (not to mention 29 pieces of luggage).  Despite our concerns David and Victoria were like pros and enjoyed every minute of our 8 hour flight and were completely unphased by the 200 mph head/tail winds that had us bobbing and weaving in the air.
July 23- We landed in London at 10 am amidst the crowd of Olympic enthusiast and began what would become a 6 hour layover.  We finally boarded our plane to Accra 2 hours late and began our descent toward destiny at 9 pm (Ghana Time).  As the wheels of the airplane touched Ghanaian ground I could not help but become overwhelmed with emotion and I began to weep.  My "God" moment was quickly interrupted as I turned the corner to behold the Immigration line which was filled with hundreds of people seeking to enter the country.  By this time our patience was all but gone but somehow we managed to wait the additional hour in line to retrieve our 29 pieces of luggage.  We were greeted by 4 members of our school staff, Prince's family, a customs officer (who opened 5 of our bags) and a host of people who insisted on pushing our luggage (for a fee of course).  We finally arrived at what would officially be our home sometime after 11 pm.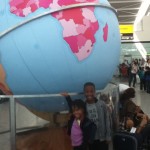 July 24_ We rose/rise early to the crow of roosters around 4:30 am, a family of birds chirping around 5:15 am and the first flight around 6 am (we live directly in the path of the airport landing strip).  We didn't venture out much because of our two guard dogs that were keeping us in instead of keeping people out.  We spent most of the day cleaning and organizing our very large but beautiful home (we are blessed).  The Lord blessed the children with playmates who came over and played and helped ease the transition.  In addition to our transition, the president of Ghana, John Evans Atta Mills transitioned from this life to the next, much to the surprise of the Ghanaian people.
July 25th– We went to the mall (quite impressive and expensive) and purchased a cell phone and a few imported food items from the grocery store.  We are at the mercy of our neighborhood right now because we don't have a car but as soon as we sort out our transportation we will be hitting the markets for some fresh fruits and vegetables.
July 26th– We finally went to the school and saw our classrooms and searched for textbooks.  Once again, the Lord has given us the "good of the land" and our rooms are large with great views (at least Nicole's). 
July 27th– We rested and unpacked the bulk of our 29 bags.
July 28th– Prince's family came to visit and it was a glorious time! 
July 29th– We joined a co-worker and her family at church and WORSHIPPED the Lord.  It was so exciting to hear beautiful Ghanaian voices raised in worship and to look out at a congregation dressed in colorful patterned cloth from the youngest to the oldest. 
July 30th– I don't remember!
July 31st– This was the one week memorial of the passing of President Mills and the nation mourned by displaying red fabric.  The fabric could be seen on buildings and on individuals to pay respect to their beloved president.  We spent the day "trying" to shop but were set back by several circumstances, the least of which was breaking down and having to get a taxi back to the school.  Needless to say, we were able to purchase a T.V. but we need someone to come and install the channels so we can actually watch it.
August 1st– Today was our first day of work!  We spent the day getting to know each other, worshipping and learning about Ghanaian culture.  We are so excited about this incredible opportunity to be used by God at AIS and pray that we can be faithful witnesses for Him.
There are so many details that we left out but this is an overview of our first week in Ghana.  I know that you are praying because we have uncommon peace and we ask that you continue to pray.  Hopefully, we can update you more frequently now that we are connected!
We love you!
The Darko Family